Captain's Log 2.0.0 Now Out Of Beta!

Also new Captain's Log-specific Web Site!
Go here : https://captainslog.scarygliders.net/
Discord : https://discord.gg/F7CJDTM
Download Captain's Log

Windows – 32 & 64-bit

Version 1.4.4 "Define Gravitas"

https://captainslog.scarygliders.net/download/captains-log-1/

Version 2.0.0 "Minimum Viable Gravitas"
https://captainslog.scarygliders.net/download/captains-log-2x/
If you find Captain's Log awesomely helpful, please consider making a donation, which will help to keep my web server running and the ongoing development of the application (not to mention the odd beer and/or coffee to fuel my brain  :) )
Description
Captain's Log is primarily an Elite: Dangerous Explorer's application, allowing you to keep track of all your jumps into systems, as you explore the galaxy.
I wrote this for myself, inspired by the most excellent EDDiscovery application. I really like EDDiscovery, but I didn't need/want some of its features, and I wanted features that weren't available in it at the time. So here is Captain's Log.
It comes without guarantee or warranty as to its fitness for purpose, and comes as-is. You have no rights or entitlements to bug fixes, updates or otherwise – BUT, I will be making updates as time wears on, and I do genuinely hope you find it useful and enjoyable to use. :)
With thanks to CMDR Psieonic for your extremely helpful and positive input!
How To Use Captain's Log
NOTE : Always start Captain's Log before running the ED Launcher, especially at each game update. If there is a game update, shut down Captain's Log and after the game update has completed, exit the game launcher, run Captain's Log, then run the game launcher again. This will guarantee that verbose netlogs will be enabled and that Captain's Log will detect a jump into a star system.
Jumps are added automatically to the database and the Jump Table when Elite: Dangerous is running and you jump to a new system.
Adding A Star Type

Just click on the star icon representing the star type you wish to log for that system. e.g. if the system has a type K star, click the star icon with the K in it. If there are more than one K type stars, click that same icon again for the number of K types in that system. A new icon will appear above, and on the Jump Table. If you made a mistake and wish to decrement or remove a star type, click the corresponding top icon.
Adding Or Removing A Planet

NEW: Planet input has 3 modes: Standard, Fast Mode, and Lazy Mode
Standard Mode
1) Click the relevant icon, depending on the planet type you'd like to add…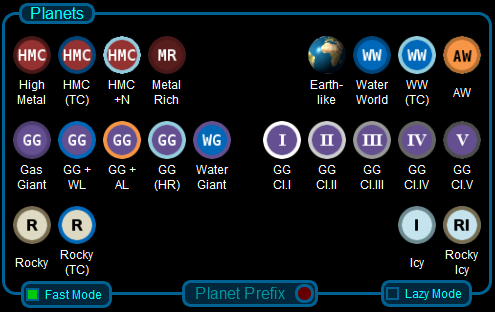 2) Add the Designation and press RETURN or click OK …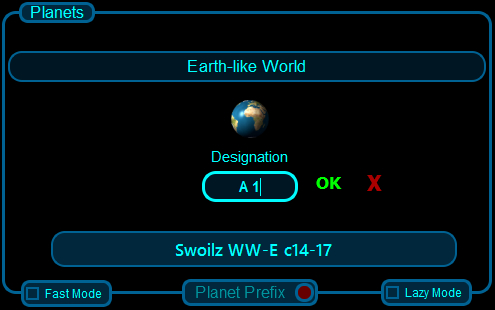 When adding a planet, the Designation will need to be specified.

Designation will be shown in the System Map View in Elite: Dangerous.

For systems with only 1 star, the planet designations will be "1", "2", etc.

For systems with more than one star, the designation will be "A 1", "A 2" etc. , for planets orbiting the first star. "B 1", "B 2" etc. , for planets orbiting the second star, and so on.

Sometimes planets may be orbiting some barycentre between stars, in which case the designation might be "AB 1", "AB 2", and so on.
Moons of planets will usually have a designation of "1 a", or "A 1 a", or "AB 1 a" and so on.
New Feature: Planet Prefix

Previous versions of Captain's Log had you typing in the Designation in full – this was a drudge and also time consuming.

Planet Prefix helps with this task :)

Scenario 1 : Planets orbiting a Barycentre

These are usually classified as something like ABC1, ABC2, ABC3 and so on…

Rather than typing in "ABC1" etc., simply type "ABC" into the Planet Prefix box, then select your planet type, and for the designation type "1"<Enter>, "2"<Enter>, and so on. Like so…

When you press <Enter> , the prefix will automatically be added to the planet Designation…

Scenario 2: Moons. Lots and lots of moons….

So perhaps planet ABC3 has 5 moons.  Rather than type "ABC3 a", "ABC3 b", and so on, just type "ABC3 " into Planet Prefix.
Note: Elite:Dangerous usually has a space between the "3" and "a", "b" etc. So leave a space after "3". Like so…

As before, the Designation will be "ABC3 a" and so on…
3) To get back to the planet icon list, either press RETURN if nothing is in the Designation box, or click X.
Fast Mode
Fast Mode simply switches off the fancy animation when you click a planet icon. This feature is for the impatient users out there – I know who you are ;)
To activate Fast Mode, simply click the Fast Mode check box…

Input of planets is exactly the same as when using Standard Mode.
Lazy

 Mode



Lazy Mode is for those Explorers who are – let's face it – just too darn lazy to enter proper Designations. :)
To activate Lazy Mode, simply click the Lazy Mode check box…


Captain's Log will now auto-assign a planet Designation for you, and add the planet type to the planet list for the system. The Designation will look like "001", "002", and so on. This is to differentiate between Genuine non-lazy data, and lazy data…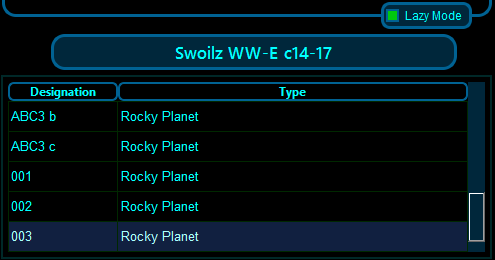 Lazy Mode overrides Fast Mode, which overrides Standard mode.
Also note that Lazy Mode disables Planet Prefix – because it's irrelevant to the mode.
Getting out of Lazy Mode is simply a case of clicking the check box again. Same with Fast Mode.
Both Fast Mode and Lazy Mode's status will not be saved in the configuration file, so you'll have to re-enable them if you exit Captain's Log and restart it later.
Removing a Planet
To remove a planet, highlight the planet you wish to remove and click the remove icon: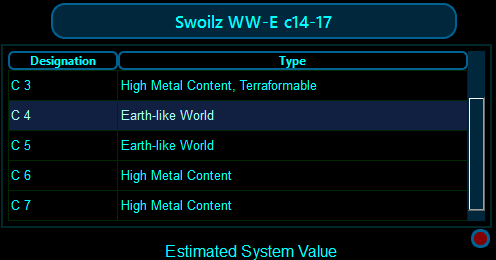 Adding/Removing A Bookmark

Simply double-click a system in the Jump Table view on the left, to bookmark it.
To remove a bookmark, either double-click it again, or use the Bookmark Manager to remove it.
You can review all bookmarks by calling up the Bookmarks Manager, either by using the top menu under Tools, or by using the CTRL+B hotkey.
Adding, editing System and Jump Notes

Simply click into either the System Notes or Jump Notes entry box and start typing/editing. These notes will be automatically stored in your database and updated as you type. They will simultaneously appear in the Jump View under the relevant Notes column.
System Notes are unique for that particular System – so any notes you enter here for a system, will appear any time that system is displayed in the Jump Table. e.g. You jump to that system often, so that system its System Note will appear in the Jump Table.
Jump Notes are unique to each jump – therefore even if you jump to a system often, the note can be different for each Jump Entry in the Jump Table.
Single-Click Copy System Name To Clipboard
By clicking on the System Name Label located at the middle of the System Bodies tab, it'll copy that system name to the clipboard, so you can then paste the system name into the Galaxy Map Nav Tab .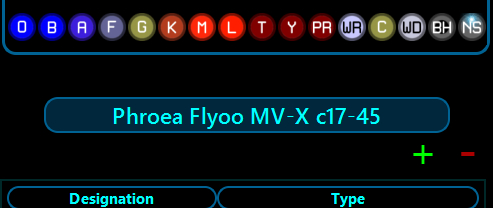 FAQ
To be updated when I get the time & strength.
Captain's Log

,